Enhancing the Value of Your Business™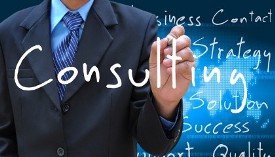 You need our consulting & advisory service if you're someone leading a start-up organization, or a small & medium sized business, or maybe a business division of a large company, you may often find yourself severely challenged in terms of management bandwidth & functional expertise to help you meet your business objectives.
Always bear in mind that your own resolution to succeed is more important than any other.
– Abraham Lincoln

You realise you need some external help to meet your objectives or resolve your business issues. So where do you go? To a big firm, of course. You would be lucky if they are even interested in your "small" issues! Maybe they will send you their brightest "fresher" straight out of management school. They will do some fancy pivot tables in Excel & help you make a great "full-of-jargon-presentation"!
Unfortunately, the world is full of "big" business consultants. They mostly focus on companies that are too big to do anything meaningful with their recommendations. Or, they send their least experienced people to work with smaller companies that could actually use their ideas.
What does your business really need?
Some well-grounded innovative ideas.
Someone with experience to bounce your own ideas off.
A mentor who will critique your thinking without having to agree with you or feel threatened by your ideas.
A person who has actually put ideas to work in hugely successful start-ups & small companies (which are now much bigger! – see Testimonials)
So you can either wait to get bigger & then attract the big daddy's of consulting, & then pray that their ideas can be implemented in your now BIG organisation or you can give PeopleFusion a call & start
"Enhancing the Value of your Business™"
today through our consulting & advisory.
For those of you looking for specific areas where our consulting & advisory can help –
Mentoring CEOs, Division Heads & Heads of Family Run Businesses.
Strategy Formulation for Corporate, Management, Human Resources or Sales & Marketing.
Business Plan Preparation & Validation.
Corporate Structuring for Business & Entrepreneurial Imperatives.
Formulation of Financial Policy & Internal Controls.
Our Consulting & Advisory can give you this, and help solve your real problems – Contact Us today!